Our Studio Parties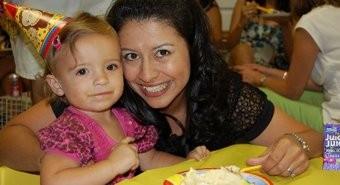 Studio Parties are available at our KIRBY location and are ninety minutes of musical fun.  Let our party teacher lead your guests in musical activities including follow the leader standup songs, lap rides, egg shaker songs, rhythm stick and scarf songs, parachute train rides and more.  We will bring out our instrument collection complete with drums, fill the room with bubbles and balls and sing happy birthday.  Everyone joins in the fun!
Our back room is brightly decorated and includes the use of a cake table, preschool sized tables and chairs, and brightly colored table cloths for you to choose from.
You bring the food, drink, plates, forks and napkins and favor bags.  We do all the entertainment and cleanup.
Parties can accommodate up to sixteen children and the cost is $285 inclusive of tax. (We don't count grownups.  16 children is fire code and must be strictly adhered to.)
Our Travel Parties
We are also available to do parties in your home or a carpeted indoor space. 40 minutes of music for $225. Also a 16 child limit.  No backyards, driveways or garages please.  Living rooms and playrooms work great!
"I would like to thank you very much for the great party that we had for Katya. Everybody - parents and kids - all enjoyed it very much!! The teacher  was just wonderful. She was able to engage the kids of all ages and all had a lot of fun!! This was the best B-day I have ever been to!"
"Fundamentally Music has made our birthday parties true memorable events! Even my 93 year old grandmother enjoys the parties. When it's your child's party and you look around and see all of the party attendees smiling and having fun, there is nothing better..."
"What a fantastic time everyone had at Sophia's party. Shay was excellent, wonderful and terrific!! You guys have a good thing going!! Thanks for a wonderful FIRST birthday party for our sweet girl."