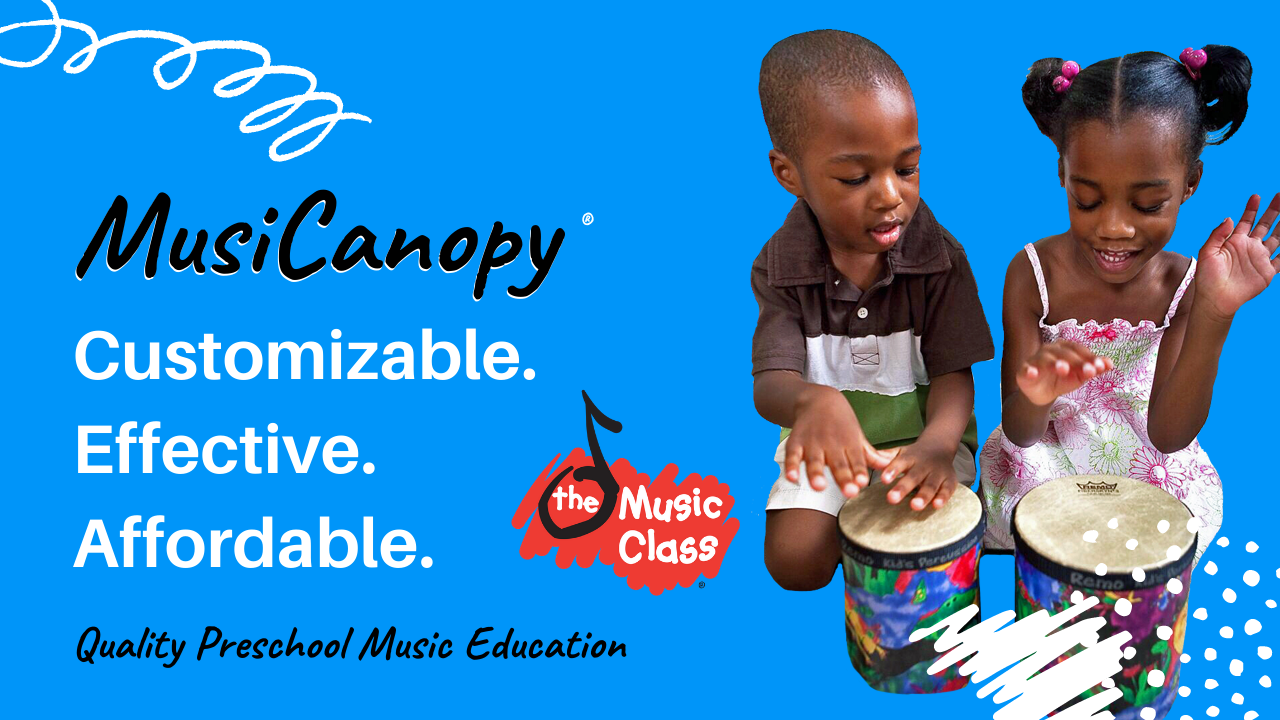 Effective Music Education: 
We know that providing music education to our students during the first years of life is the key to developing foundational skills for a lifetime of creating and enjoying music. Research also tells us that music education is the brain's equivalent of a full body workout, stimulating the growth of neurons and enhancing the brain's potential in ways we are just starting to understand.  
Effective music education means creating an environment where teachers and parents immerse their children in fun and interactive music, and expose them to a variety of sounds in order to develop a large music vocabulary. MusiCanopy provides just this type of education! We invite you to
sample our teach
er manual
 which is designed to make leading music time easy and effective.
Smart:
MusiCanopy's award winning music is delivered on our app to teachers and parents. Teachers and management will love the ease of use of our web-based lesson plans and song instructions  - including classroom video examples of how to lead songs.  
Affordable: 
Utilizing your classroom teachers along with our technology and curriculum, MusiCanopy is strikingly affordable. The cost per student is approximately one CD per year, and there are no shipping fees no matter where you are in the world. The price includes everything you need for the entire academic year*: two CDs worth of music for each student, teacher training, lesson plans, a teacher songbook, and descriptions of engaging activities for each song. Our 5-year curriculum will expose your students to over 250 songs, providing an impressive value to you and your families.
*Price does not include classroom instruments, many of which you may already own. If you choose to have a music specialist work with your students, that fee is set by your local specialist. 
---
MusiCanopy is one of several programs developed by The Music Class, an international music education company founded in 1998. At The Music Class, we are dedicated to research based music education, service, and quality. For more information about bringing MusiCanopy to your school, contact us.
---
Why should my school offer MusiCanopy?
EARLY CHILDHOOD IS THE CRITICAL TIME FOR LEARNING
Our 5-year preschool curriculum starts with infants and continues through pre-K.
IMMERSION IS THE BEST STRATEGY FOR LEARNING 
We know that the best model for learning language is immersion. The same concept is true of music. Every family in a TMC program receives their child's music to listen at home and in the car to help make music a daily part of their lives. Our app makes it easy.
EXPOSURE TO A LARGE MUSICAL VOCABULARY IS ESSENTIAL
Exposure to a large spoken vocabulary is needed for language development. Music development works the same way. Our songs feature a large variety of musical styles, sounds, and complexity. 
CLASSROOM TEACHERS MAKE GREAT MUSIC TEACHERS
Classroom teachers make great music teachers. While we are happy to include music specialist, keep in mind that there's no need to pay extra for music specialists when classroom teachers are in an excellent position to provide an immersive music learning environment. Our teacher training is comprehensive and includes a large library of video examples of how to lead our songs and activities.
MUSIC SHOULD BE ENJOYABLE FOR THE CHILDREN AND THEIR GROWN-UPS
Children, teachers and parents love our music! We have a library of over 250 playful songs and each is paired with a fun interactive activity and targeted learning goals. New music is provided every semester. 
Click on the images to listen to our song samples
TESTIMONIALS
A huge success!
"MusiCanopy has been a huge success for us. I hear the children singing as I walk down the halls of our school, on the playground, riding on the bus together-everywhere! It's wonderful to hear the teachers on all age levels using the curriculum. We can't wait to get our next song collection!"
—Elisabeth Stewart Graham, School Director
Simple and effective!
"MusiCanopy is simple to use, effective and keeps my pre-k students alert and responsive. The CD's provided are geared to learning the basic fundamentals of music. I would recommend this program to all early childhood educators."
—Linda Bruehl, Teacher
MusiCanopy helped me tremendously!
"The MusiCanopy curriculum has helped me tremendously in teaching music to my young students. The children have enjoyed it so much, and I have received plenty of positive feedback from parents. It is very rewarding to hear from parents how much their children are enjoying music now, and about all the singing they are doing at home--unassisted!"
—Laura June McDuffie, Music Specialist
Our children love it!
"Our children love having MusiCanopy as part of their school day! They love the catchy tunes, the engaging movement activities, and maybe most of all, the fun of making up new words to familiar melodies. I am amazed when I hear a very small child singing a MusiCanopy song on the playground or in the hallway, because I know this music has become a part of who this child is."
—Dr. Ann Brightwell McCord, Director of the Oak Grove Young Children's School
Truly enriching!
"MusiCanopy is truly an enriching program. It is wonderful to see the parents participate in circle time with their children. Parents and children are singing down the hallway to class each morning. Teachers are excited about introducing new songs with new ways to move to the music. It has been a great success!"
—Kathleen Dixon, Executive Director, First Steps Academy
Great asset of our school!
"I would just like to thank The Music Class for the MusiCanopy program. It has proven to be one of the greatest assets of our school.The children, parents and teachers absolutely love it! The music speaks for itself. It has served as an icebreaker for shy students and has been a sense of comfort for anxious children that are joining our program for the first time. The songs are delightful and easy to learn. Our teachers are finding it very beneficial as well. They are able to tie music into the lesson plan each week and with such a wide variety of songs, we are always able to find one that relates to what we are studying. The teachers have also commented on how helpful and informative the training classes are! After each training class, the teachers are more and more confident and excited to take the music program to the next level. As a Director, I am so appreciative of your professionalism and commitment to ensuring that our school is reaping all of the benefits of the program through training, instrument selections, training manuals, lesson plans and CDs. It has been a wonderful experience working with you!"
—Eileen Ross, Director, Vinings Creative Learning Center